News • 25/04/22
Our two-year-anniversary highlights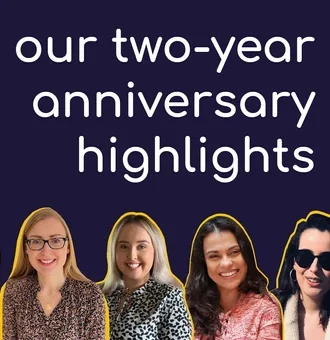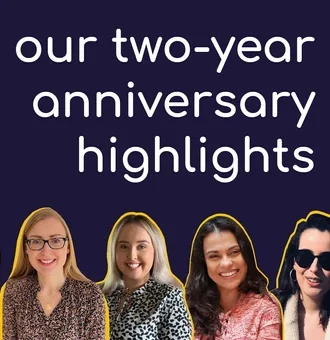 Rejecting clients, growing our team and trying to kill off a bloke called Phil
Has it really been two years already?
A quick look at our calendar confirms it. Since April 2020, we've been busily (and bravely) rewriting the rulebook, un-normaling and showing that doing good is actually good for business. And while the time's flown, so much has happened. From rejecting clients to growing our team, and the small matter of trying to kill off a bloke called Phil, here's a look back at our highlights.
April 2020: blast off
After years in the making, tonnes of excitement, apprehension and passion, Jack & Grace entered this world in April 2020. A full-service communications agency, with a difference: we only wanted to work with brands driven by social purpose that value people, planet and profit equally. It's not been easy, but we've stuck to our guns…
June 2020: rejecting our first client
Landing work. The first rule of business. But when you're driven by purpose, you're hardwired to be selective about who you work with. So, within weeks of launching, we already found ourselves saying no to a project. It was tough, but maintaining our strong values is important to us. And the upshot is, we're really proud of the clients we do work with, because each of them contributes to a better society.
October 2020: our first team members
Abi and Dre officially joined Jack & Grace in October 2020. It was a bit scary: we suddenly had a team and a whole lot more responsibility. But it was reassuring too, our philosophy of 'good being good for business' was working. And it's kept on working. Our growing team has since been bolstered by the arrivals of Jess and Shereen. We should also shout out our incredible board, who've been with us from day one. Well versed in creating positive change, their support and guidance has been priceless.
April 2021: pending B Corp status
There are only 4,856 certified B Corps in the world. So, we're over the moon to be part of this community that values people, planet and profit equally; and almost a fully fledged one. We're a Pending B Corp, have completed our impact assessment and are currently waiting for our audit to take place.
August 2021: Ditching Amazon
As an agency who wants to play an active and positive role when it comes to people and the planet, we consider all elements of our supply chain. That's why we decided to boycott Amazon. Every pound we spend is a vote for the kind of future we want to see. Amazon does bad by the planet and people. Instead, we seek to work with sustainable (and ideally regenerative), diverse partners for our supplies. We imagine Amazon remains blissfully unaware, but it was still a big moment for us!
January 2022: making our pay transparent
There's no avoiding the fact salary is a really important part of any job and as a team we want to normalise talking about it openly. So, at the start of this year, we shared pay bands between the Jack & Grace gang. We've also committed to publishing the salary level on every job we advertise. We've all worked in organisations where these things are treated as top secret and people doing the same job are paid vastly different amounts. By being clear about salary levels and how decisions on salaries are made we hope to foster a fairer, more open organisation.
February 2022: launching a podcast
We like to think we're bold and brave, and we try to be those things. But we felt a lot of trepidation making an irreverent podcast all about death. Delving into a dark issue but keeping a sense of humour.
We couldn't be prouder with the end result. Kill Phil is a poignant series that opens a fresh conversation about assisted dying. And we made a new friend along the way: broadcast agency Access Studios, who know their onions when it comes to podcasts and made the project possible.
Here are our team's personal highlights:
Laura
Creating a culture where people can thrive; a safe space to test, learn and enjoy being part of a supportive, collaborative team. It might sound obvious, but I'm also really proud of our clients too. They each contribute to our ethos and support our commitment to only work with organisations that value people, planet and profit equally.
Nyree
We wouldn't be where we are now if it wasn't for the advice and help from old and new friends. You know who you are, thank you so much, I'm very grateful. The other key highlight for me has been this experiment we call un-normaling – taking outdated work 'norms' and challenging them feels good.
Abs
I've loved watching our team grow over the last two years. It's amazing to be a part of such a strong unit of people with shared values and the same passion to make positive changes in the world.
Jess
It feels a bit otherworldly to work for an agency that nurtures your talent and supports your growth the way that the J&G team do. I've worked across brands and projects I feel passionate about, with a team I really respect and admire, and learnt a hell of a lot along the way. A true highlight of mine was co-producing the Kill Phil podcast, adding a valuable contribution to the debate on assisted suicide. A lot of work went into it, and we're all immensely proud of the impact this project has had – and will continue to have in the coming months.
Dre
I've loved the freedom we get to shape our roles, from where and when we work to the projects we get involved in. We're encouraged to carve out a niche in the team that plays to our own strengths, and because everyone is so enthusiastic and supportive we also have the confidence, time and space to work on areas that don't come as naturally to us.
Shereen
It's been great joining the company and working with people who aren't afraid to say what they think and who are open and willing to see things from other people's perspectives. Team J&G are also very funny, which has made work meetings an enjoyable experience! I've also enjoyed working on Kill Phil, it's certainly been an education for me. Assisted dying is a subject I was aware of but never gave much thought, it's helped me work more thoughtfully and develop my knowledge which I'm always keen to do. I am proud to have played a part in it.
Here's to another two years of rewriting the rulebook!