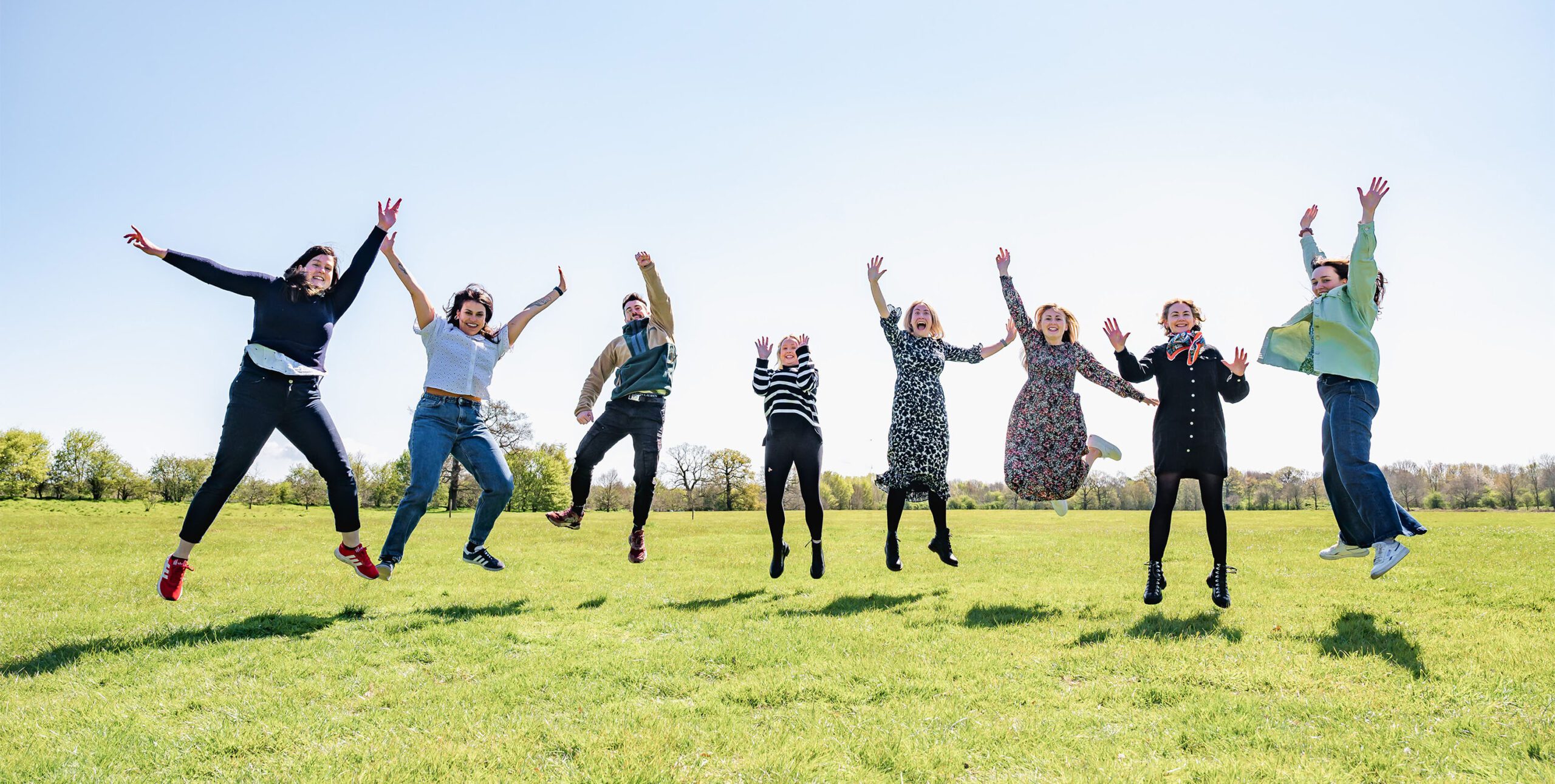 Our Story
We're Jack & Grace, a B Corp Certified communications agency
We believe doing good is good for business. That's why we only work with brands that place social purpose at their heart.
We think all businesses have a responsibility and an opportunity to shape a better world – not just by trying to do as little harm as possible, but by making a positive contribution.
We think comms done well is a superpower. And we want to be on the side of businesses doing good.
Why? Because the next generation matters and the generation after that. We're doing it for the kids.
Jack & Grace just happen to be two specific kids we're rather fond of.
Our Values
Business NOT as usual
Comms agencies don't always have the best reputations for treating people and planet fairly. In founding Jack & Grace, we wanted to challenge some of the long-held 'norms' that no longer feel right. We call this business not as usual. Here's what we mean…
Flexible working as standard (from day one)
Why are most jobs offered only full time? Does it really need to be that way? What about offering compressed hours, part-time, and job-share without people having to ask?
Are set working hours, or every day in the office really the best way of working for everyone? How about encouraging shared parental leave as the norm?
Half of our mission as a company is to do amazing work for clients and the other half is to rewrite the 'rules' of work. This kind of change can feel uncomfortable (much like this yoga here), but we're committed to testing and finding new ways to do things that make work, work – for lots more people.
---
Talking about pay
We're open and transparent about pay. Why?
We've all worked in organisations where these things are treated as top secret and people doing the same job are paid vastly different amounts. It's unfair and the secrecy enables it to happen.
By being clear about salary levels and how decisions on salaries are made we hope to foster a fairer, more open organisation.
So, we share our salary bands within the Jack & Grace team and publish the salary level on every job we advertise.
---
Amazon boycott
As a purpose driven comms agency that wants to play an active and positive role when it comes to people and the planet, we think carefully about all the partners we work with. That's why we decided to boycott Amazon. It's a sort of symbol of our overall commitment to work with sustainable (and ideally regenerative), diverse partners for our supplies.
Every pound we spend is a vote for the kind of future we want to see. Jeff Bezos hasn't been on the blower to beg us back yet, but no matter how small we might seem beside his multi-billion buck business, we're sticking to our guns on key issues.
---
Squiggly careers
Career ladders and jobs for life are a thing of the past. Squiggly career paths are welcome here! That means…
We don't think you need a degree to have a successful role in comms
We don't penalise people for 'gaps' in CVs
And we value relevant experience in all its forms, for example, non-paid work, like being a carer
Our carbon footprint
We measure our carbon footprint every year because if we don't measure it, we can't reduce it. Our emissions in 2023 were equivalent to:
85,000

Miles driven in an average car

8

11

Return flights from London to New York
Read more detail in our report, here.
Our net zero target
Our targets follow the guidance published by the Science Based Targets initiative (SBTi) and are validated by them:
Near term target

50% reduction in total emissions by 2027 (compared to 2022)

Long-term (net-zero) target

At least a 90% reduction in total emissions by 2035 (compared to 2022)
To help us reduce our emissions and meet our net zero targets, we're promising to:
Make sure 70% of our suppliers commit to valuing people and planet
Encourage all employees to switch to renewable energy providers
Be a meat-free business (and choose vegan choices wherever possible)
Offer an ethical company pension provider to all staff
Make sure 10% of company-wide training is sustainability themed each year
Clients
How we choose our clients
We work with brands that value people, planet and profit equally because we want businesses doing good to be the norm.
This doesn't mean we only work with organisations that are 'perfect'. We're not perfect; perfect doesn't exist. It does mean we want to partner with brands and organisations that genuinely align with our mission.
To help with that, we've developed a checklist to enable honest, positive conversations. We call it our 'journey to positive impact map'. Catchy, hey?
In the spirit of openness and our mission to use business as a force for good, we're sharing our approach so other purpose-led comms agencies can use.
Join Us
Become part of the family
Jack & Grace is a communications agency with a difference – we wholeheartedly believe that doing good is good for business. We're always on the look-out for new talent to join our growing team. If you're driven by purpose and think we're a good match, get in touch for a chat.
Get in touch
Andreas Ambarchian

Content Creator

Abigail Clayton

Account Manager
We've been thoroughly impressed with your work and the values underpinning how you approached delivery. You showed dedication and drive, it felt like more than just a job, with real passion from those involved. Difficult issues were handled with the upmost sensitivity. The campaign you delivered has been a fantastic springboard for change and we're hugely proud of the partnership working together.

Fiona Ellison, Director

Unite Foundation

It's such a joy to work with the lovely Jack & Grace team; nicest agency ever.

Holly McKenna, Head of PR & Comms

Leukaemia UK

It's been a joy working with the team from Jack & Grace. You've challenged our thinking in all the right ways, taking us on a real journey so our message is as powerful as possible. We've now got solid foundations to build on and the impact you've made is clear to see.

Jill Attenborough, CEO

The Country Trust