Our Work
Kill Phil: The Podcast
Bringing a difficult topic to a new audience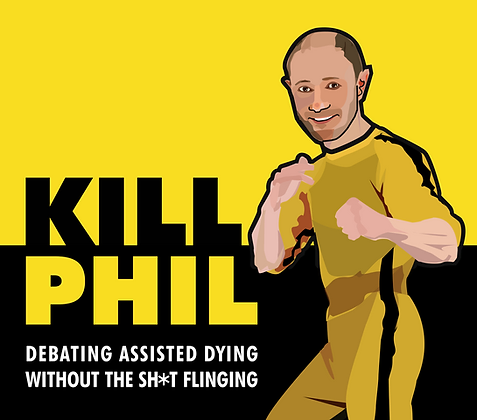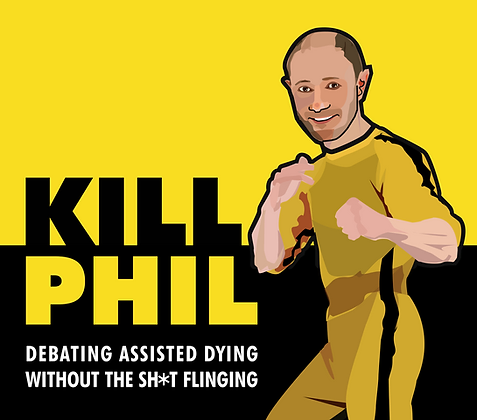 Bringing a difficult topic to a new audience
Aged 43, Phil Newby was diagnosed with Motor Neurone Disease. Staring down the barrel of an undignified and drawn-out death Phil wants the right to decide when his life is no longer bearable and end it with dignity.   
Assisted dying is one of the biggest ethical issues of our time. The question isn't so much: why hasn't the law on this issue been changed? But why hasn't it even been properly reviewed?  
---
In 2019 the courts ruled that Parliament would need to lead any change in the law, making public engagement on this issue vital. 
We knew we had to reach a wider audience in a different way with this difficult topic. The question was, how? 
A complex and sensitive issue, assisted dying captures public interest only periodically when a campaigner speaks out or a country revisits its laws. Traditional media coverage doesn't always allow for the context and nuance needed to explore this issue. And those most interested in the issue tend to be older, and with an already formed view.  
We needed that to change.
---
Our answer was to work with Phil Newby and producer Rob Double from Captured World to create, produce and promote the Kill Phil podcast. Aimed at a wider audience, the eight-part podcast follows Phil's journey living with an incurable and life-ending illness over a two-year period and unpacks the key issues around assisted dying. 
We secured involvement from high-profile figures, including: Sir Vince Cable, consultant neurologist, Dr Rhys Robert, human rights barrister, Adam Wagner and police and crime commissioner, Martin Underhill, who all took part in episodes of Kill Phil.  
Crucially, the podcast has moved the debate around assisted dying on, thanks to a thoughtful and thought-provoking long-form interview between Phil Newby and Not Dead Yet campaigner, Phil Friend, who is against a change in the law.  
As Phil Newby says: "In a single balanced conversation between a couple of people with apparently opposing views, we've managed to find some understanding, agreeing that much of the current debate is shouty, divisive, polarising and unhelpful. But we also agreed that it will be possible to find a workable solution with the right discussion and the right safeguards."
---
The podcast has been downloaded thousands of times and featured on Sky News, in The Sunday Times and in The Express. Alicia Kearns, Phil's local MP, called on Parliament to support Phil's assisted dying campaign in a House of Commons debate.
And we haven't finished yet, the debate continues. Get involved by following the Kill Phil podcast on Instagram and Twitter, and listen wherever you get your podcasts.